Another month in 2023 has passed, and yet again, we've got lots of updates to bring you! The big news from October is the initial release of the Mage-OS Distribution, but we've also got details on our recently launched membership offering as well community updates from recent (and upcoming) events.
Mage-OS Distribution Initial Release!
A huge milestone was met this month. After more than a year of work with an increasing number of passionate and talented volunteers, our technical team has released the first version of the Mage-OS Distribution. Until now, we've offered mirrors of Magento Open Source, including our unique nightly builds, but as the name suggests, these mirrors simply provide an alternative way to install and manage the same Magento Open Source codebase.
However, with this release, we now have a completely standalone distribution. While this still includes Magento Open Source, we can implement additional modifications, paving the way for us to differentiate our offering with new functionality, along with enhancements and bug fixes.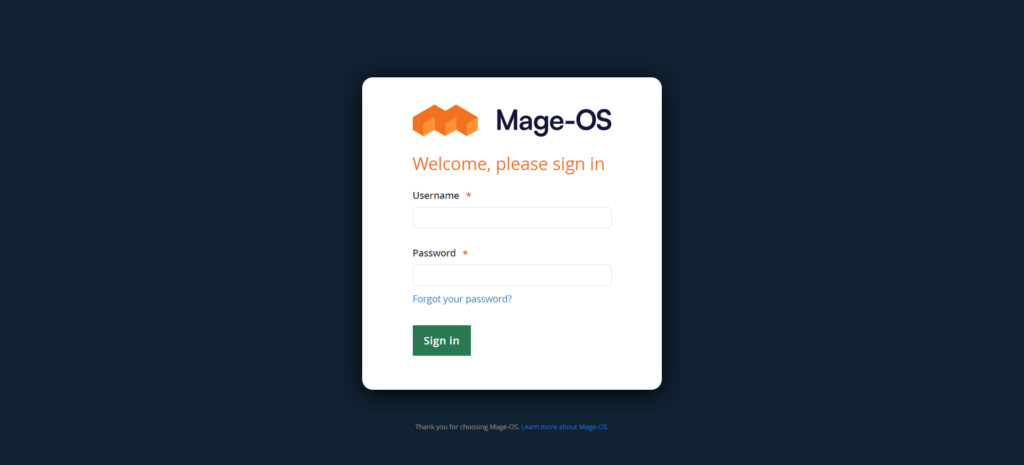 While the initial version only includes a handful of changes, including refreshed admin panel branding, we plan to roll out further (and more impactful) changes over time, as they are contributed from the open source community.
While we are now forging our own path, we will maintain compatibility with Magento Open Source, ensuring that all your existing extensions and integrations are supported. We also aim to ensure compatibility updates are rolled out as swiftly as possible, which is highlighted by our adding support for the 2.4.6-p3 patch release, which was released within 24 hours of our initial launch, meaning we released 1.0.1 already!
For more details, read our full announcement article, which includes installation/migration steps.
Membership
In last month's update, we announced the soft launch of our membership offering, which has already raised over €8,000 in our first month. A big thank you to all our initial backers.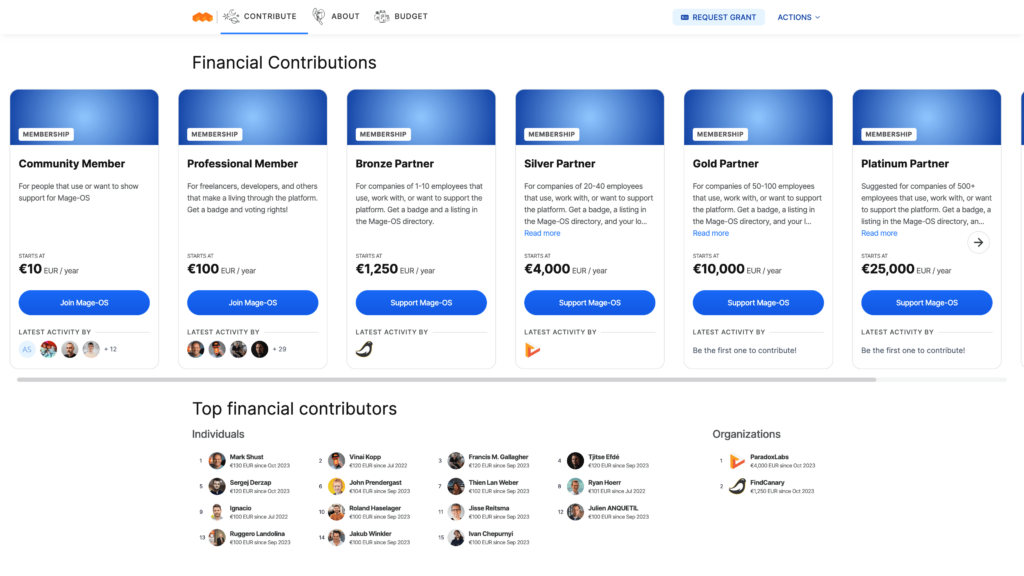 When we launched, we supported credit/debit card payments only, but we've now added bank transfer/direct bank payment offerings to aid larger contributions, plus reduce the fees paid (i.e. ensuring more of your contribution money goes to Mage-OS).
This initial rollout has given us some insight into the quirks around the platform we use to manage contributions (Open Collective), and as such, we're working on a detailed guide to help simplify the process of signing up and clarify intricacies, like the tip system that benefits Open Collective (not Mage-OS).
If you want a reminder on our different membership (individual) and partner (business) tiers, then head over to our Membership page to find out more.
Community Feedback
Now that the Magento event season is in full swing, we took the opportunity to get exposure and raise awareness and comprehension of what Mage-OS is, why we exist and why others should consider supporting/joining us.
Burning questions were asked at MageUnconference in Cologne and Meet Magento New York Meet Magento New York (see recaps below), and this provided a lot of food for thought to our team, especially around how to provide more clarity about our vision and roadmap.
One key point that we can address straight away is the collaboration between Adobe, the Magento Association and Mage-OS. Although our original movement came from the frustration of feeling less support from Adobe, we are now in a different space.
We acknowledge all the efforts put in since, with the appointment of Mathias Schreiber on the Magento Association side, as well as Parul Sinha and Ritesh Somani on the Adobe side. We are also very thankful to the whole Meet Magento events team for their continuous effort to allow the Community to all gather in person and nurture our shared passion. We are very grateful that the organizers of various events like Meet Commerce, Mage Titans, Mage Unconference NL and DE, the Mage-OS Hackathon and Meet Magento New York have welcomed Mage-OS with open arms and allowed us to be represented.
With that in mind, we are now opening up more channels and reaching out more proactively to various stakeholders of the Magento ecosystem to collaborate, ensure our goals are aligned and avoid duplication of work wherever possible. However, in parallel, we will continue to set our own pace as the urgency to maintain and grow the Magento ecosystem and bring reassurance to all stakeholders (e.g. merchants/agencies/vendors) still exists.
We also pledge to remain open and transparent, and to continue this, we've reviewed all the additional (and unanswered) questions we received during the Q&A session at Meet Magento New York and provided our responses in our recent update post.
Events & Community
MageUnconference DE
At the end of September, the legendary MageUnconference returned to Cologne, Germany, and Mage-OS was a hot topic during the weekend, which led to many burning questions (as noted above), plus an influx of new contributors! For more details, see our recap article, contributed by attendee and Mage-OS DevDocs creator, David Lambauer.
Meet Magento New York
Thanks to the many of you who joined us at Meet Magento New York! Mage-OS was front and center throughout the 4 days, starting with the pre-party on Monday, through the 2-day main event and into the final day on Thursday, where we hosted our very first in-person meetup: Mage-OS & Friends Get Together.
We were well represented throughout the event, with our own booth, involvement in multiple panels, as well as talk covering our journey to date, achievements and future plans. We'd like to extend our thanks to Marsha Naidoo and the team at Above the Fray for supporting our presence on every level and allow us to make a real splash in the US market.
If you want to learn more, then see our recap article (another shoutout to David Lambauer for helping pull this article together, too!)
Magento Events Listing and Recaps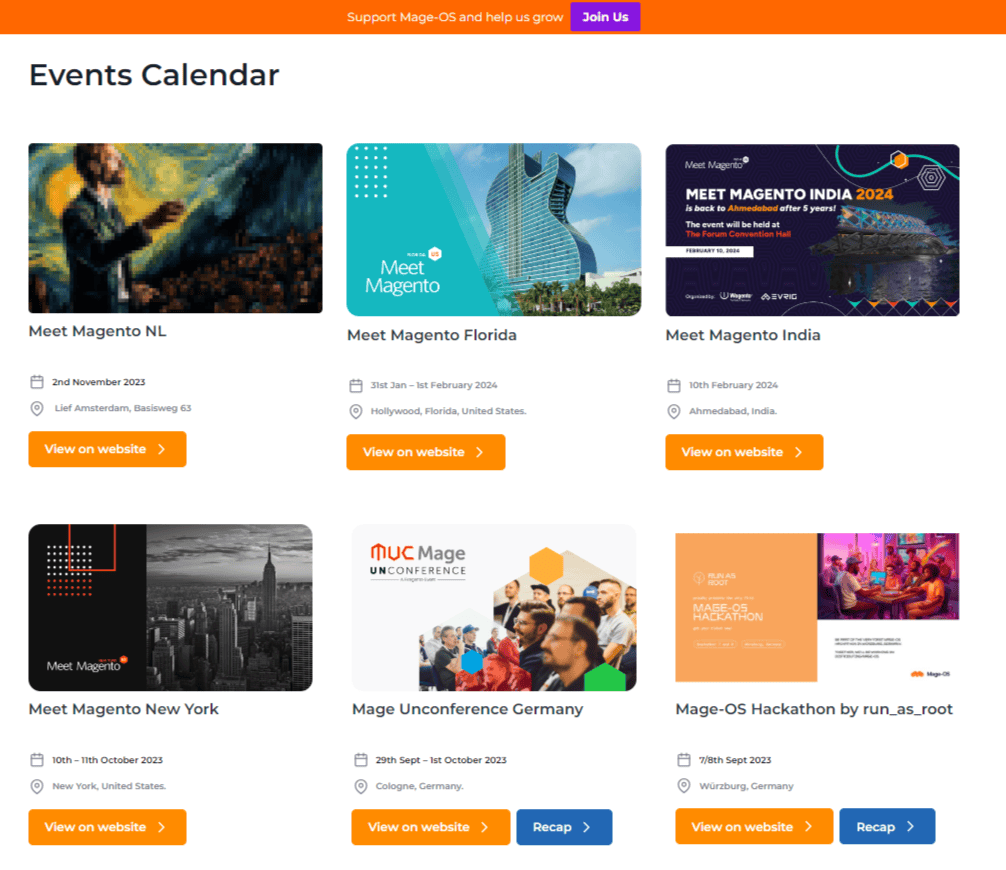 Events are an essential part of our community. As such, we feel it is important to provide the go-to place to find all the upcoming Magento events happening around the world. Check out our Magento events calendar page, which is run manually by Mage-OS volunteers and enriched with recaps after each event. Plus, look out for a refreshed events page/system coming soon!
Big thank you to John Prendergast, David Lambauer, and others for this effort.
Meet Magento Netherlands 2023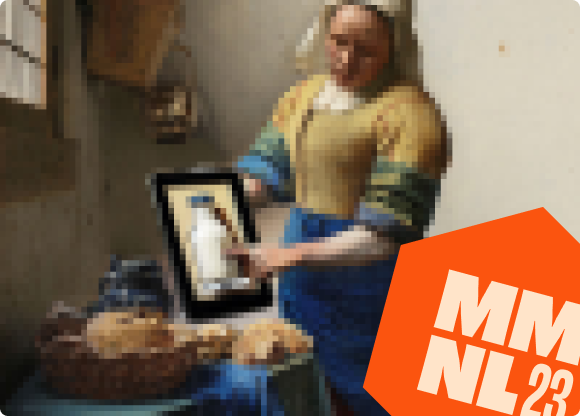 Meet Magento Netherlands is back for 2023 after a 4-year hiatus, and takes place in Amsterdam on November 2nd. This is our last big event for 2023, and we couldn't be more proud of our Dutch local chapter, Mage-OS Nederlands, for organizing such a successful event before it even takes place! The initial ticket allocation sold out two weeks prior, and further tickets that were made available (thanks to additional sponsors) have now sold out, too. All this means an attendance of over 300 community enthusiasts, which is incredible!
Not only that, but the lineup of speakers is diverse and features many high-profile merchants and community experts. We're also very excited about the afterparty, where a live band has been hired to get the dance floor on fire!
At Mage-OS, we will be well represented, with over half of our board members in attendance – Ignacio, John, Maciej, Thien-Lan, Vinai, and Wouter – plus many more of our valued contributors and working group members. In fact, this may be the biggest gathering of Mage-OS folks to date. So, if you have questions or want to learn more about our plans, this would be an ideal time to ask!
To round out the day, our president, Vinai, will be taking part in the closing keynote of the event, so don't miss it!
A big thank you to all the sponsors for making this event possible.
Swagshop
Finally, if you're looking to wear Mage-OS, we have lots of options for you to pick from! You can find the Mage-OS apparel shop at: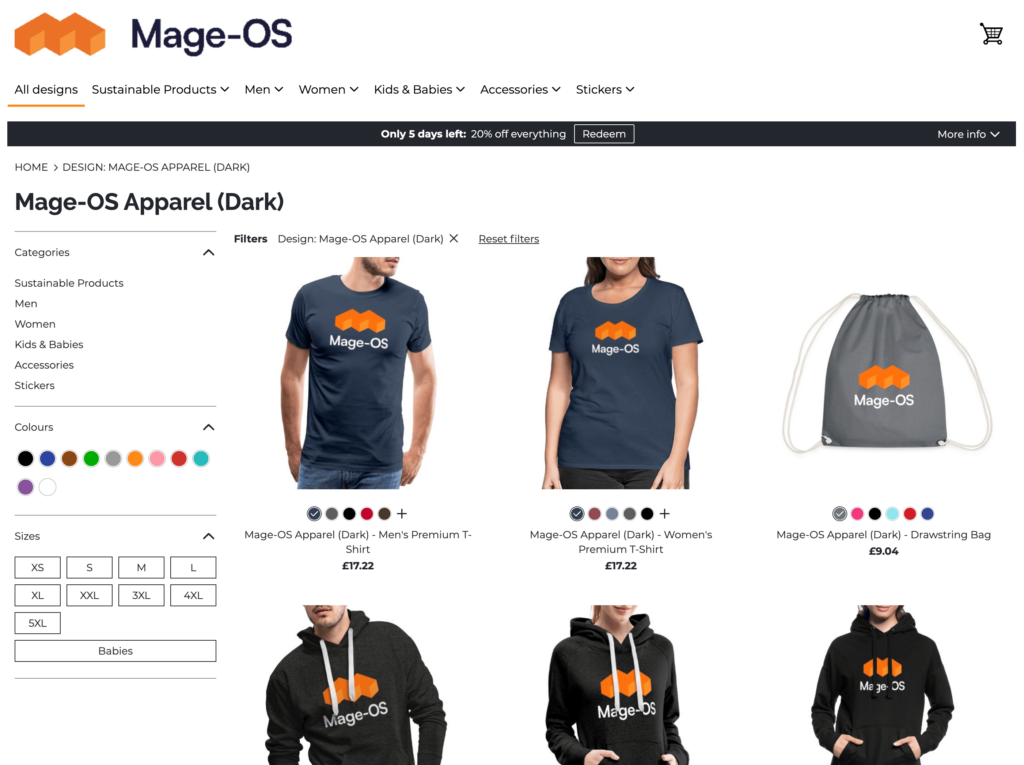 Until next time! The Mage-OS team.