Secure store management at your fingertips
Managing your Magento store is essential for any business trading online. Whether that be store configuration, user management or reporting, the Magento Admin panel provides a powerful, secure area to administrate and interact with many aspects of your E-Commerce store.
Admin Panel
A secure place to interact with your Magento platform
The Magento Admin Panel is where you manage many aspects of your store from Operations to Merchandising and Sales Order Processing. This is where you can setup products, promotions and perform various administrative tasks. The Admin URL is should be something unique an private to your business.
Key features
Add & edit your products
Add & edit your categories/collections
Create promotions
View reports
Update your company information such as emails, address, telephone number etc.
Configure store features, payments etc
Manage SEO
Manage customers
Add & edit page content
User Roles & Permissions
Curating your Admin system by roles is good practice and helps secure your business
Any user with access to your Magento Admin system is a trusted member of your business. Undoubtedly, different staff members will have different skills and responsibilities and therefore it makes sense to allow access only to the area's under their responsibility. Using roles helps protect your business and helps your staff members navigate around their areas of responsibility.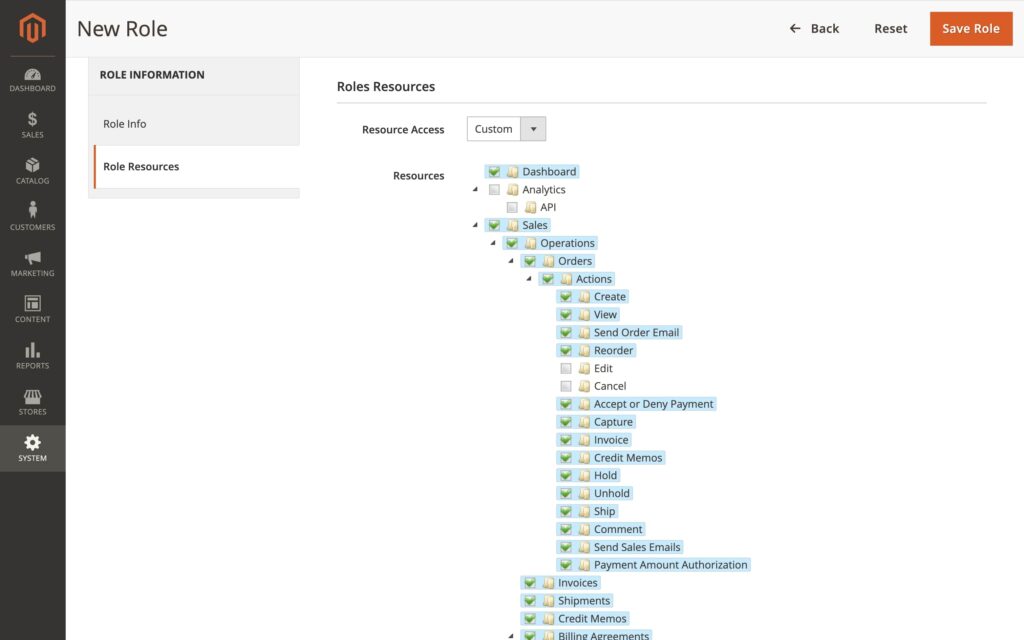 Key features
Create new user accounts
Create/Manage Roles to access different areas
Assign users to roles
Assign MFA to users
Change Admin Panel Language per user
Reporting
Essential reporting on sales, customers and products
Small businesses on Magento can get instant access to KPI's to help them grow their online business. Periodically reviewing your report data can help you understand your customers better.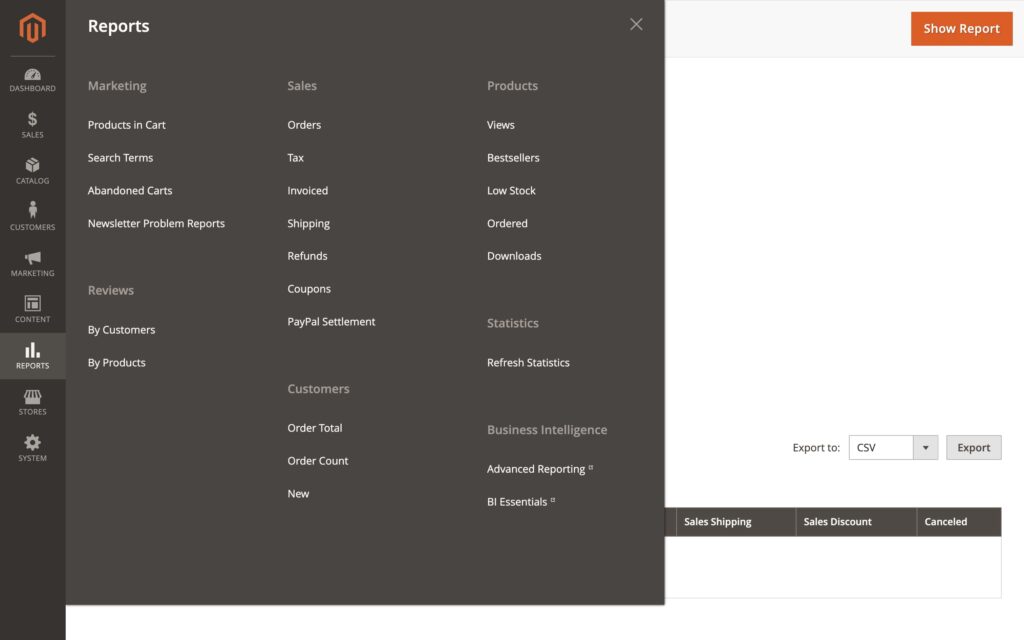 Key features
View add-to-cart rates and cart abandonment
Site search terms
Product reviews by product and customer
Report on sale by orders, tax, invoices, shipments and refunds
Product views, bestsellers, low stock and downloads
Security Tools
Protect your store and customers from the threat of attack or theft with secure features including Captcha and MFA
Security of all private data and business operations is paramount for your business. Magento includes Captcha and 2FA services to combat and protect both store-front and Magento Admin from increased cyber attacks be that automated or otherwise.
Key features
Implement 2FA in Magento Admin using Google Authenticator or U2F
Google reCAPTCHA for Magento Admin
Google reCAPTCHA for your website including login/checkout and other forms.
Admin account sharing – prevent multiple users logging in using the same account
Password eecovery link expiration
Max password reset limit
Case sensitive logins
Admin session lifetime
Maximum login attempt failures
Admin password lifetime
Force password change upon lifetime expiry
Bulk update / import / export tools
Import/Export allows you to easily work with products or customers en masse
Working with CSV's from your favourite spreadsheet editor or other back-office system is made easy with this powerful feature. Products and customers can be managed and both imported/exported so you can work with or exchange data to/from other applications. Most commonly this tool is used to import/update product or stock information quickly.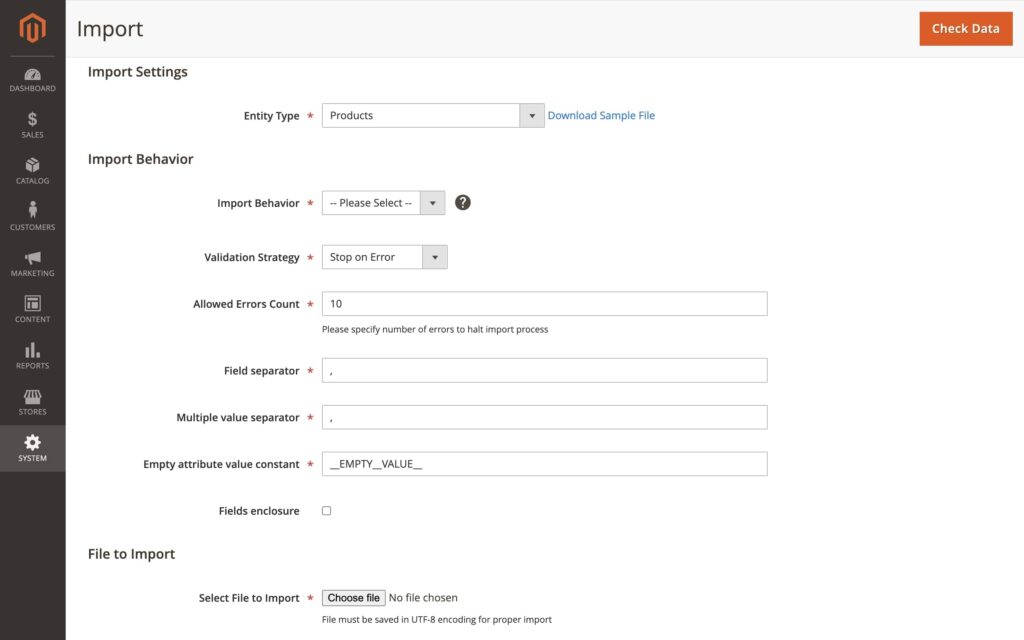 Key features
Add/update, replace or delete products
Update advanced pricing such as tier and group prices
Add/update, replace customers and addresses
Import stock quantities and sources