Multistore as standard, not an afterthought
Magento doesn't just have a multistore add-on like other eCommerce platforms. It was architected with multistore in mind from day one. Almost every feature Magento offers can be independently configured and customized per store, giving you ultimate control over your business (or businesses!)
Key Features
Run multiple storefronts from one Magento instance
Localize or internationalize your business
Create entirely separate branded storefronts
Display unique content and translate the entire storefront
Create and manage discrete product catalogs, prices and category structures
Take payments in any currency, with automated or manual control over conversion rates
Choose how and where to ship your products per storefront
Tailor tax/VAT calculations and display them to each market and customer group you sell to
Manage stock from multiple locations with discrete stock levels per storefront
Run concurrent B2C/D2C or B2B sites, either as separate or unified storefronts
Language & Localization
Your stores, any language
Whether you want to translate Magento into your regional language or embark on full-scale internationalization, Magento has you covered, with the ability to install a wide range of pre-existing language packs as well as create and manage custom phrases and entire dictionaries. Further configuration options allow you to tailor your site(s) to your customers' local expectations, such as timezone, date format and weight units.
Features
Translate your storefront using pre-existing language packs for almost any language
Create and manage custom phrases and entire dictionaries
Localise your site to ensure your customers feel at home
Learn More
Payments & Currency
Take payments using the providers and currency your customers demand
Taking payments in your customer's local currency and preferred payment options is essential for a successful online business. Magento boasts an unrivalled number of payment providers and, combined with the power for you to decide which payment methods and currencies you provide per storefront, you can cater to your customers' needs.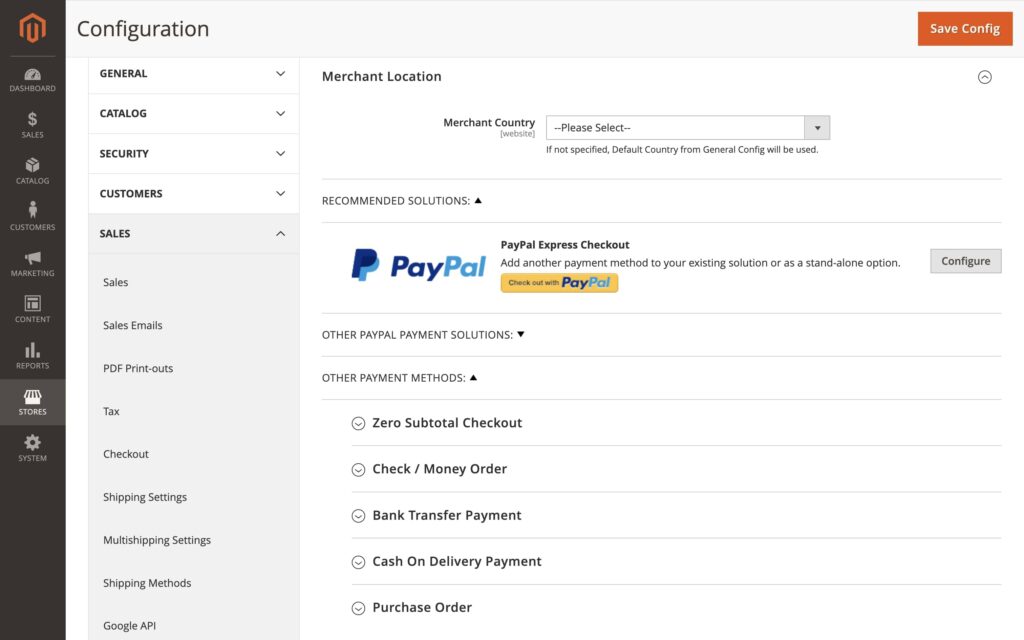 Features
Support for both online (e.g. card) and offline (e.g. cash/check/bank transfer) payments
An unrivalled number of supported payment providers (either native or available via official extensions)
Take payments in any supported currency
Apply manual/automated currency conversion
Set discrete prices and offer different payment options per storefront
Learn More
Tax
Complete control over your tax calculations and display
Whether you need to calculate sales tax, VAT, cross border tax or a combination of them all, Magento can cater for you with the ability to create multiple tax rates based on the destination, and powerful rulesets that can tailor these further by products and customers. Display of tax to your customers is equally important, and Magento gives you full control over where and when tax is applied and displayed on the storefront. And, of course, all the above can be configured per storefront.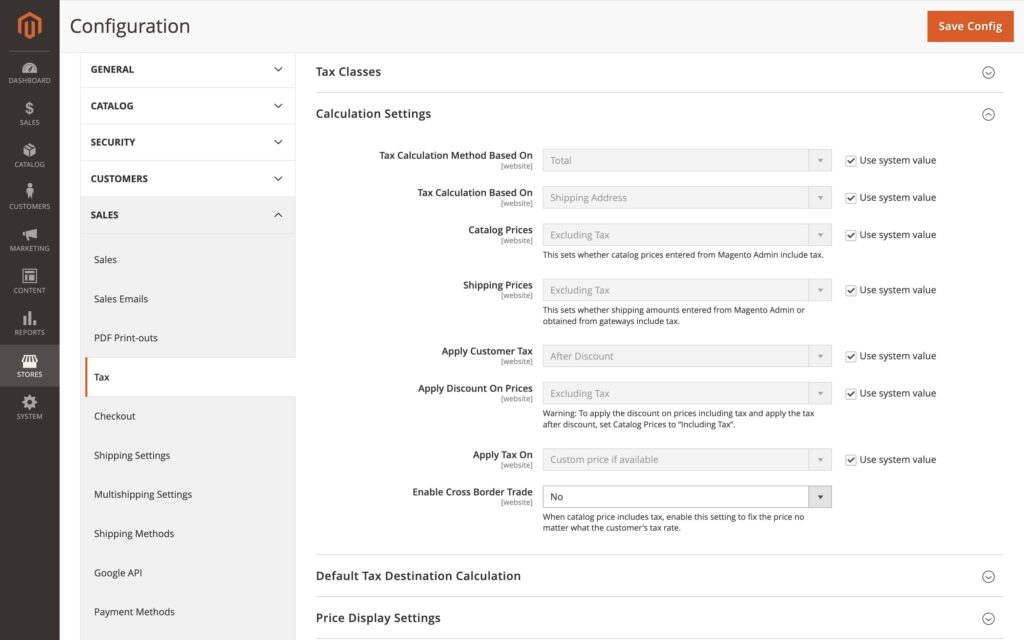 Features
Calculate sales tax, VAT and cross border tax
Set rates by destination (zip/post code, region and country)
Create powerful rulesets based on products and customers
Customize tax display within the catalog, cart, checkout and orders/invoices
Tailor tax calculation and display per storefront
Support for EU VAT ID Validation for B2B transactions (via VIES)
Learn More
Shipping & Delivery
Ship it your way!
Magento offers a wide range of shipping options out-of-the-box, including simple flat (basic) and free methods, plus UPS, USPS, FedEx and DHL. For more custom scenarios, table rates allow you to tailor rates by destination and cart price or weight, multiple address shipping allows customers to deliver to more than one address at checkout and in-store delivery allows you to offer click and collect. And if that's not enough, then the large number of external shipping providers and extensions available have you covered.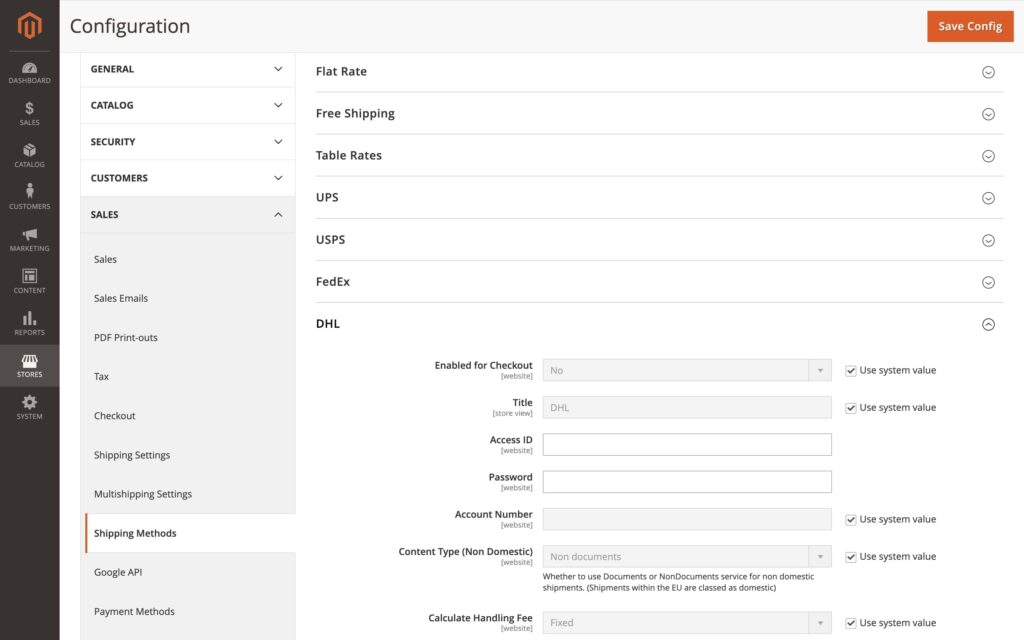 Features
Basic flat and free rates
Built-in UPS, USPS, FedEx and DHL support
Table rates for control over rates by destination and cart price/weight
Multiple address checkout for delivering to more than one location
Offer click and collect/deliver to store options
A large ecosystem of shipping providers/extensions
Customize shipping options/output per storefront
Learn More
Catalog & Content
Display relevant content and products
Magento offers unrivalled control over what content you display and how you present it across multiple storefronts. Create discrete catalogs, offering only the products relevant to your customers/market, with custom pricing and category structures. This can be further highlighted by tailoring unique content output for each storefront, as well as setting custom design and layout by utilizing multiple themes.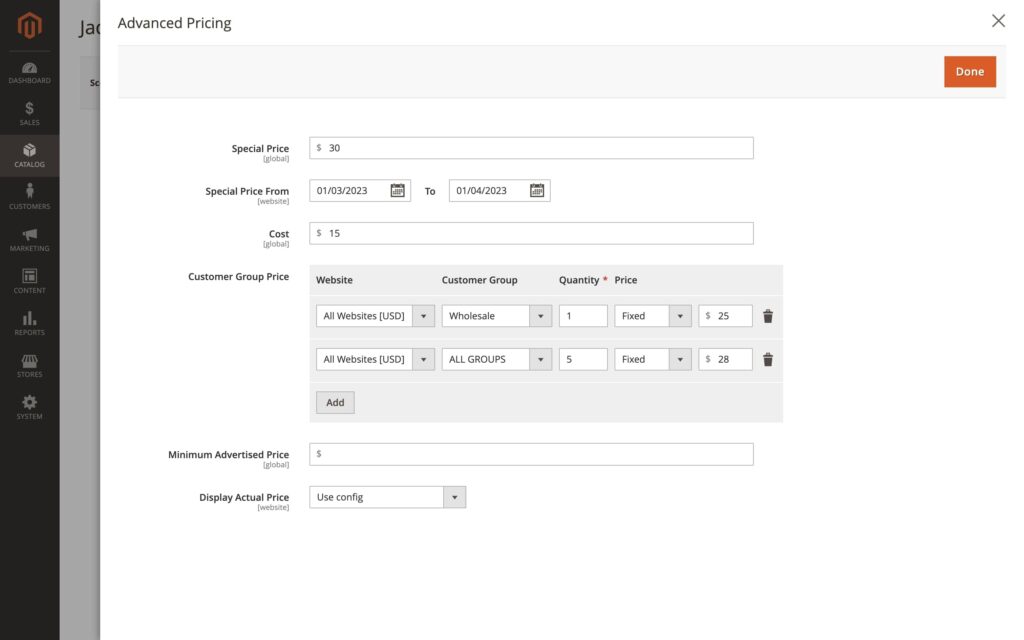 Features
Tailor products and prices per storefront
Create multiple category structures
Create and manage unique content output
Modify and translate the output of products, categories and content per storefront
Set custom themes to change display and layout
Change logo per storefront
Learn More
B2C, D2C & B2B
Sell to businesses, consumers or both
With Magento, you can easily tailor your store to sell to consumers, directly or indirectly, other businesses or a combination of both with best in class control over products, pricing, payments and tax.
Features
Create separate or unified B2C and B2B storefronts
Create customer groups with bespoke pricing
Set tier prices (bulk discounts)
Tailor tax calculations and display based on customer type
Offer B2B friendly payment options, such as purchase orders
Learn More
Inventory
Expand your business operations without limits
Magento's inventory solution enables you to open up new locations (to new cities, countries and continents) easily. Set up your locations and manage your stock sources and aggregations for each location and storefront. There are no limits.
Features
Have multiple stores and warehouses? Manage each product's stock quantity per location and per storefront
Allocate items for any order from any location based on distance, priority or something special that you can decide
Create shipments for an order containing items from different locations with only one single click.
Easy click & collect enablement
Expand capabilities using the API with your in-house developers or your agency
Bulk assign or remove products to your locations with just one click
Integrate with any ERP
Learn More