Mage Titans returned to Manchester, UK, on April 22nd 2023, for the first time in nearly 4 and half years, and what a comeback it was!
Over 150 passionate community members attended the event, and while the main focus of any Mage Titans event is aimed at developers, there were also many others from different backgrounds involved. The day itself was an incredible success, with many great speakers, including long-time community members and newcomers to the stage, giving talks on a wide range of topics, from in-depth technical talks to productivity, mental health and well-being.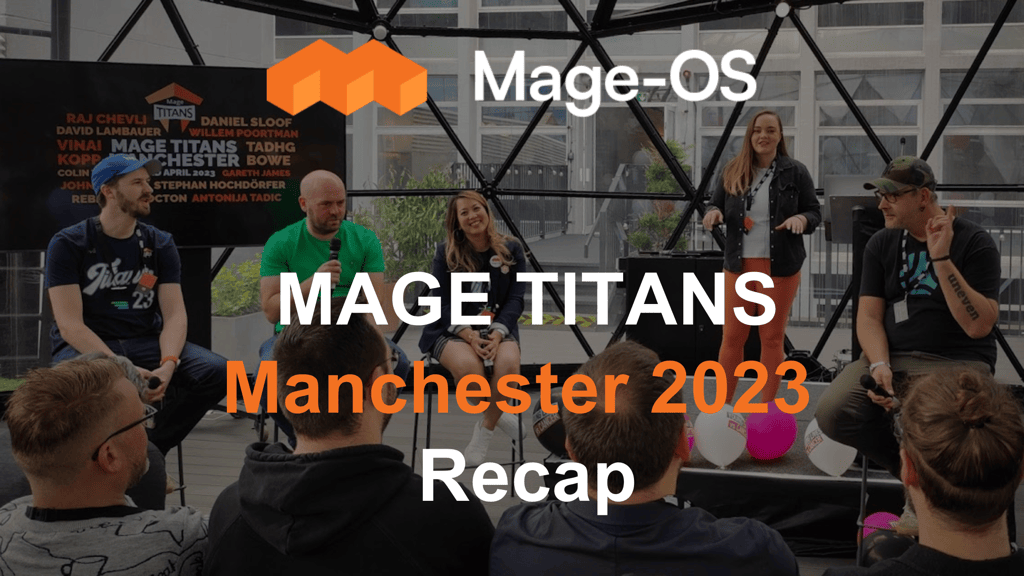 There was a strong turnout from Mage-OS, including our President, Vinai, Vice President, Thien-Lan, Board Members Alessandro, Peter-Jaap and myself (John), plus many of our incredible contributors from both our technical and content committees, as well as board members from our first local community initiative group: Mage-OS Nederland.
Mage-OS was a hot topic all weekend, starting out on Friday night at the Dev Exchange pre-event meetup, through to talks during the main event and even late into the after-party!
Dev Exchange debate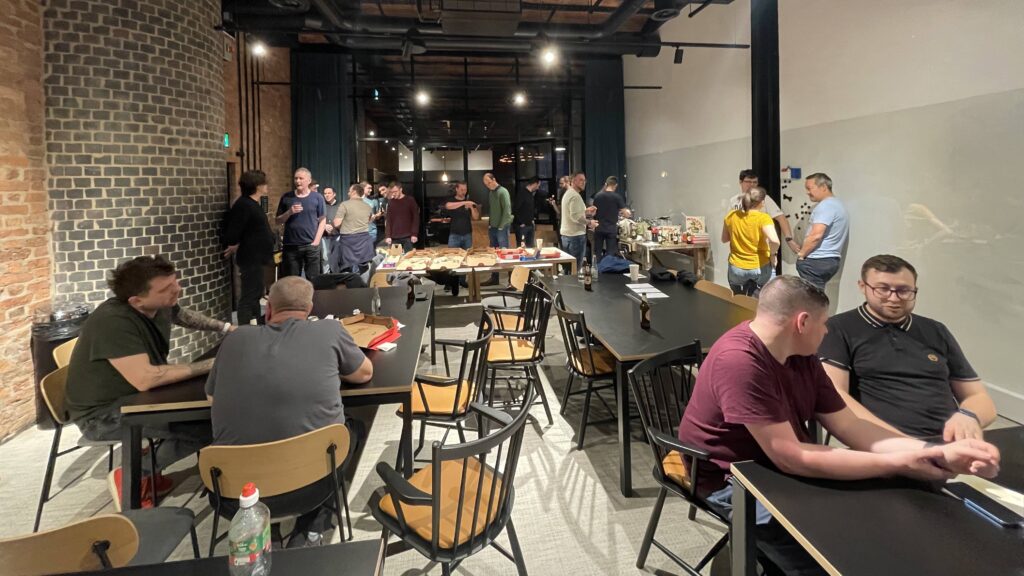 On the Friday evening before the event, around 30 community members gathered together for a small event to catch up and discuss topics suggested by the attendees. Given this was the return of Mage Titans after such a long time, the majority of the event ended up being people catching up with old acquaintances over a beer, but one topic hit a nerve and provided engaging discussion for over an hour. You guessed it… Mage-OS!
The chat ranged from what Mage-OS has achieved so far, why certain things have taken longer than planned (in some people's opinion), what Mage-OS should focus on next, what developers and agencies want and need from Mage-OS, and what would help Mage-OS move faster (spoiler alert: more contributors and funds!).
While the debate and opinions did get a little heated at times, everyone involved was on board with the overall mission that Mage-OS has set out to achieve – to ensure a successful future for the Magento platform. Furthermore, it highlighted the passion that remains in the Magento ecosystem, along with the desire to nurture and grow this community we all love.
The main event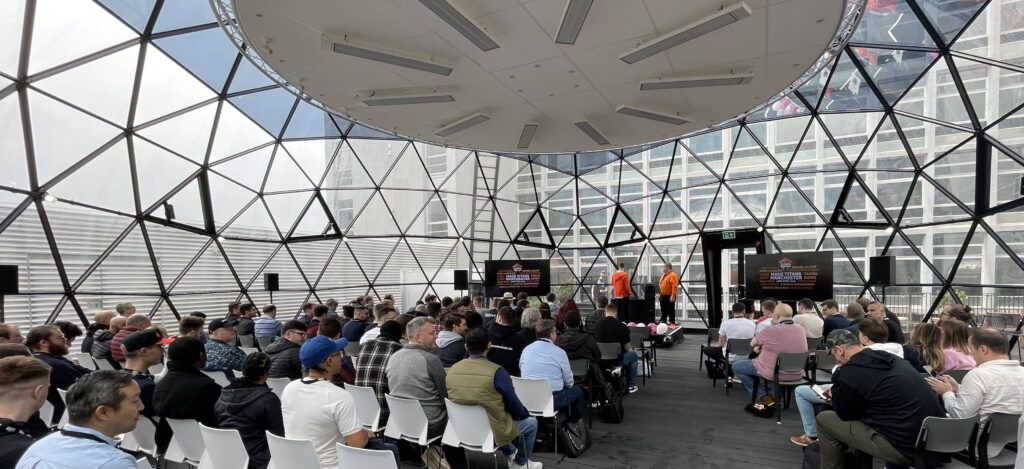 The main day itself took place on a surprisingly sunny Manchester day, and in a new location, after the closure of the much loved Comedy Store. The new venue didn't disappoint, however, the 'dome' being a stunning setting for a day of talks.
Building Mage-OS
After a handful of engaging talks in the morning, it was time for our President, Vinai, to take the stage. Vinai's clearly no stranger to the stage at Magento events and has talked about Mage-OS on multiple occasions, but this was the first time anyone had given a technical talk on the platform.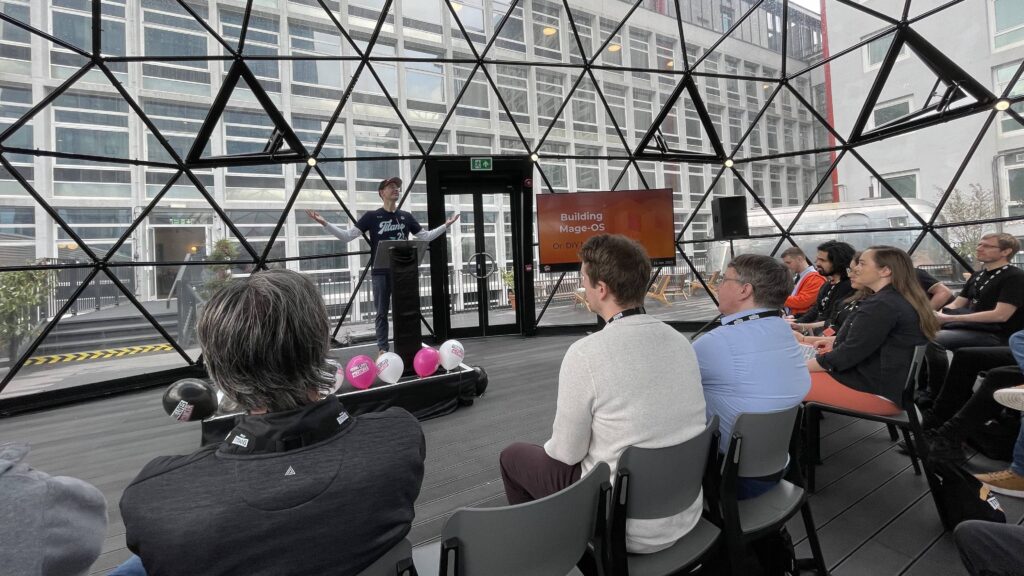 Vinai's talk outlined the process, complexity and challenges of our journey towards building our own distribution. It highlighted the many parts of the Magento release and package management that people often take for granted and the fact that Magento's (Adobe's) own process is not actually open source.
Taking the main Magento 2 mono-repo and splitting it up into the many packages that are eventually installed when creating a new project via composer was the main challenge, but Vinai also explained the many other quirks uncovered along the way. This included how Adobe's own released packages contain many inconsistencies (which we had to replicate), how bundled extensions are not built from publicly accessible repos and the different types of additional packages that needed handling (such as the inventory and page builder repos).
The talk was definitely an eye-opener for many folks, especially those not so close to the technical side of the project. While it certainly outlined the complexity of the challenge and the time it needed for us to reach a point where we could offer our mirror and nightly builds, it also highlighted that when passionate and talented folks get together, we can achieve great things!
The Future of Magento
After further stimulating talks in the morning and a lunch break, we returned for the afternoon session, which kicked off with a panel discussing the 'small' matter of the future of Magento.
The panel was hosted by longtime Magento community advocate Rebecca Brocton and included the inventor of Hyvä, Willem Wigman, Space 48 and Mage Titans founder, Jon Woodall, recently appointed Executive Director of the Magento Association, Mathias Schreiber, and last but not least, our very own Thien-Lan Weber, Vice President of Mage-OS.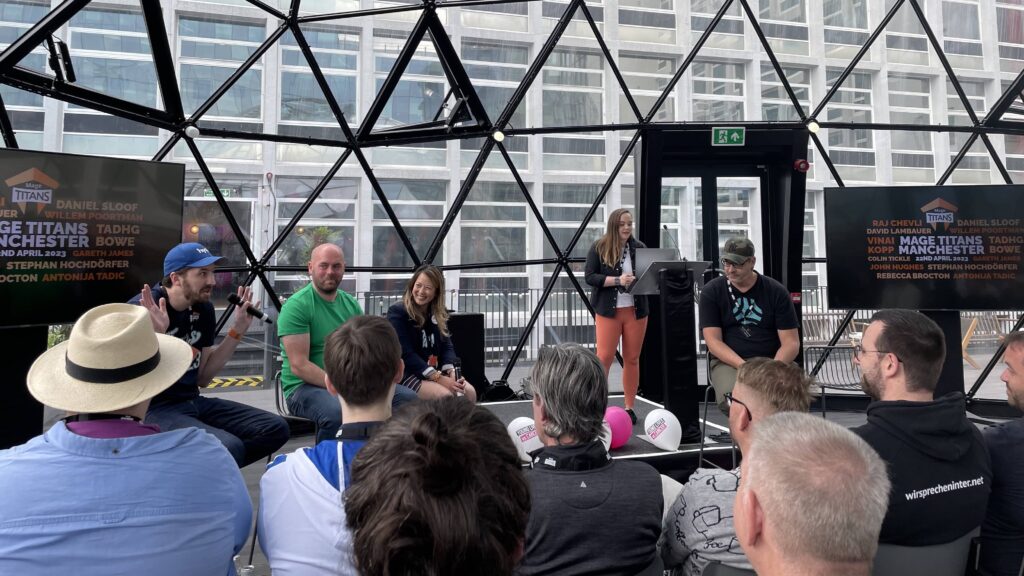 The panel were presented with a variety of questions that were proposed by community members and event attendees before and during the panel, which included questions around the future of the frontend of the default frontend of Magento (Luma), what the community needs most from Adobe (to listen/transparency), what's happening with the Magento Association, and of course, the future plans for Mage-OS!
As a quick aside, our plans at Mage-OS remain consistent for the time being: continue building out our tooling so we can get to a point where we can offer our own standalone distribution and accept code contributions from the community and begin innovating on new features, improve the content on Magento Open Source and Mage-OS on this site, and finalise the founding of our association so we can open up membership and begin to take funds to accelerate the above further, along with trying to recruit more contributors to help our cause!
The most poignant takeaway from the panel, however, came when the topic of current community engagement was raised (via a poll about whether people felt more, less or the same amount of engagement with the community than in the past, or are newcomers to the ecosystem). This led the discussion to move on to how we get new generations to join the ecosystem and become excited and engaged with the platform, which prompted Willem to issue a rallying cry to existing community members, especially those in prominent positions, to stop posting negative content (even if partly in jest) and focus on promoting a positive image that accurately portrays the joy and passion we all have for the community and platform.
More talks, more chat, good times!
There were further talks through the afternoon, and Mage Titans legend Tadhg Bowe rounded off the day with his trademark comedy/self-care/productivity routine! Following this, it was time for the after party, where the chat and buzz remained late on into the evening, including some questionable photos!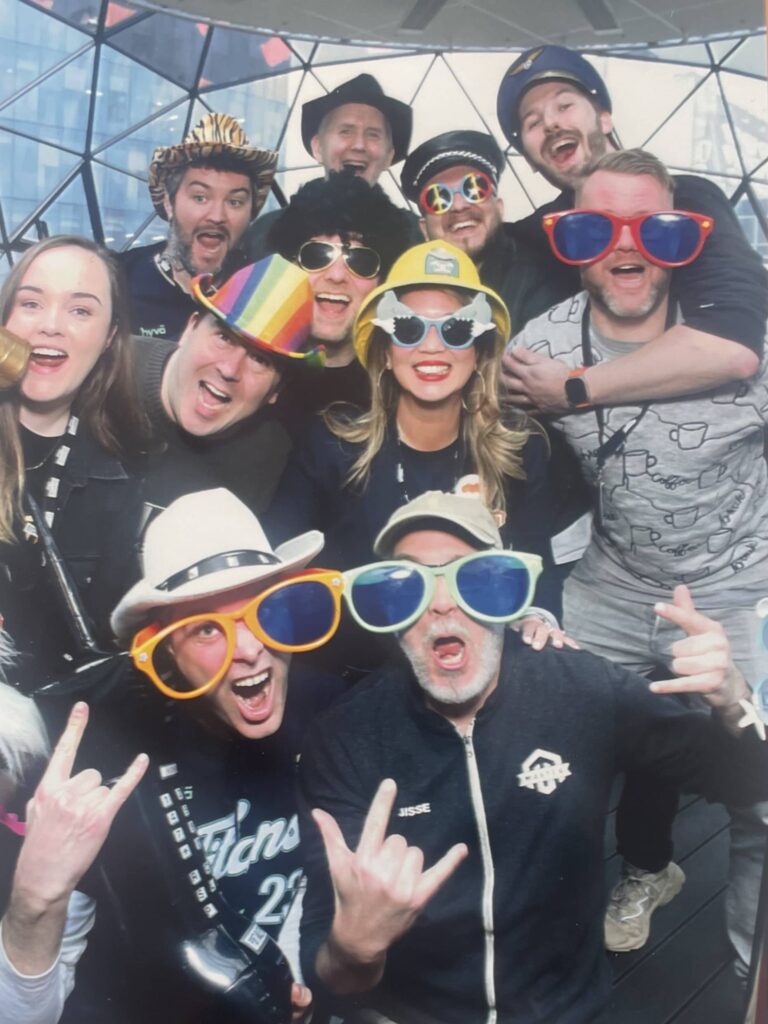 Recap and Takeaways
The entire event was an overwhelming success and felt like a real reunion for the Magento developer community, but equally, it was great to plenty of new faces enter the ecosystem. We've come away re-energized, enthused and it reaffirms our belief that pushing forward with Mage-OS will play a important role in re-invigorating the community and helping the Magento ecosystem to grow and innovate.
Our key takeaways from the event are:
The Magento community is still as passionate and driven as it ever has been – we just need more events like these and working groups/initiatives to push things forward
Like Rome, Mage-OS wasn't built in a day, and it's important we take stock of what we've achieved so far from unpaid community contributions alone to get to a point where we can begin to start building out our own distribution and start taking on members (and funds) to expedite our growth
If we want to encourage newcomers into the space, positivity is key; we need to ensure we portray the Magento community and ecosystem externally as the welcoming and encouraging space that it is
We need to continue promoting our openness and desire for collaboration; we recruited a few new folks to our weekly tech and content meetings off the back of the event, and we hope to continue to grow these committees moving forward
On that note, if you'd like to get more involved, whether by simply joining the discussion on our Discord Server or by joining one of our committees, please visit our Get Involved page. And, if you want to feel the passion of the community first-hand, then check out our events page for what is upcoming next.
Finally, we'd like to express our thanks to Gareth, Rob, Molly, Jon and the rest of the Space 48 team for bringing back Mage Titans and putting on an incredible event. We look forward to the next edition!