Create shoppable experiences your customers won't forget
Magento has all the content tools you need to delight and engage with your customers. Whether it's creating beautiful page layouts with Page Builder, building reusable content areas and pages, or placing content anywhere on-site, Magento has you covered.
Key Features
Use Page Builder's intuitive drag and drop editor and multiple content types to build any layout
Create unlimited CMS Pages with SEO-friendly URLs
Building reusable content sections using CMS Blocks
Place content anywhere on-site using Widgets
Page Builder
Turn your content into commerce with Page Builder
Page Builder gives you the creative freedom to build out any content you want, and allows you to easily integrate products and purchase opportunities to maximise its impact. With a vast array of content types from simple text areas, to rich media (images, videos), banners and sliders, products and more you're never short of options to build out your pages.
Features
Create any layout you can dream up with Page Builder's flexible 'rows and columns' based grid system
Add text, headings, images, videos and HTML content
Inline editing speeds up content creation by allowing you to quickly edit text copy
Include banners and sliders that support both video backgrounds and parallax effects
Add products from categories or a range of conditions into a carousel
Embed Google Maps with multiple locations and details
Save your favorite layouts as templates to re-use again and again
Insert CMS Blocks so you can create and manage content in a one place but output multiple times on-site
Page Builder is extensible so developers can add new or extended existing content types
Learn More
Pages, Blocks & Widgets
Create unlimited amounts of content and place it anywhere on your site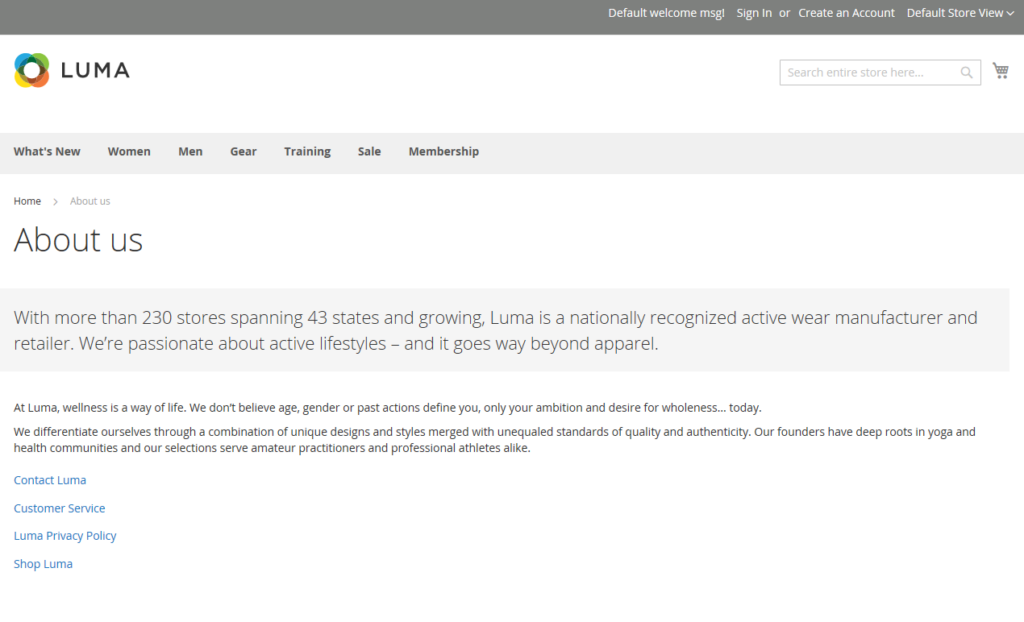 With CMS Pages, CMS Blocks and Widgets you can create an endless amount of areas to output content on your storefront, all powered by Page Builder.
Features
CMS Pages allow you to create dedicated pages of content using Page Builder with control over the page layout, theme as well as SEO tools so you can add a custom URL and key meta information
CMS Blocks allow you to create multiple reusable content areas, again powered by Page Builder, that you can include in CMS Pages, Widgets, Categories and even other CMS Blocks!
Widgets allow you to place multiple content types, including CMS Blocks, on any page, or pages, you specify in almost any location within the page
Learn More
Media Gallery
Manage all your media in one place
Magento's Media Gallery allows you to keep all your media files in one place so you can easily access and reuse them across your storefront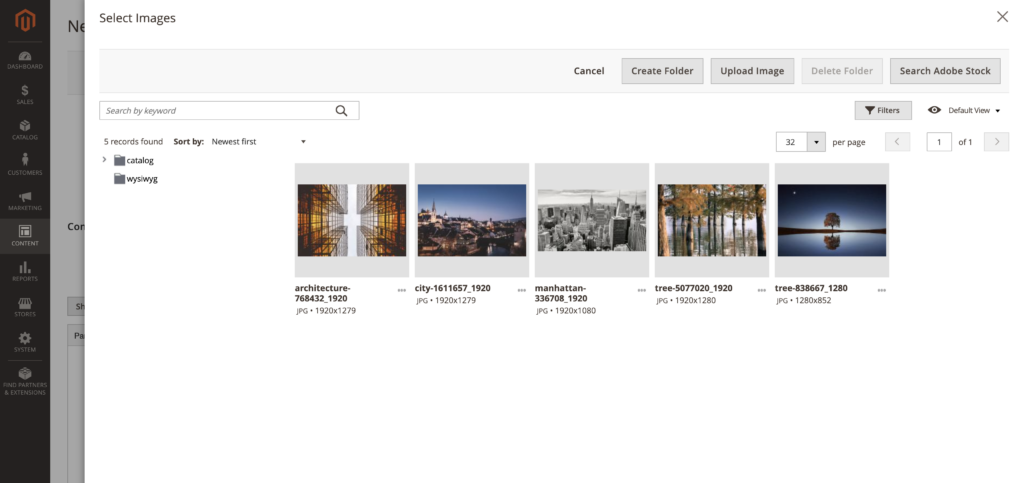 Upload media directly into the Magento Admin Panel
Reuse media across all content areas on your storefronts
Keep your media organised by creating sub-directories to store your files in
Learn More
Adobe Stock Integration
Find the perfect image with Adobe Stock
Integrate Adobe Stock with Magento to allow easy access to thousands of high quality images you can use throughout your site.

Features
Find thousands of quality images with minimal effort to enhance your content offering
Easy select and include the content within Page Builder and anywhere else the media gallery is supported
The pre-built integration with Adobe Stock makes it easy to get set up
An Adobe Stock Subscription/Credit Pack is required in order to utilise this feature
Learn More