Hollywood love stories usually start with some ups and downs in a relationship and then a big showdown – preferably with a great sunset as a backdrop. True love stories are often much simpler: You find the perfect match and stay together. In the case of Magento 2 and Online Spy Shop, a UK-based company offering surveillance equipment for companies, governments and individuals, one can certainly speak of true love.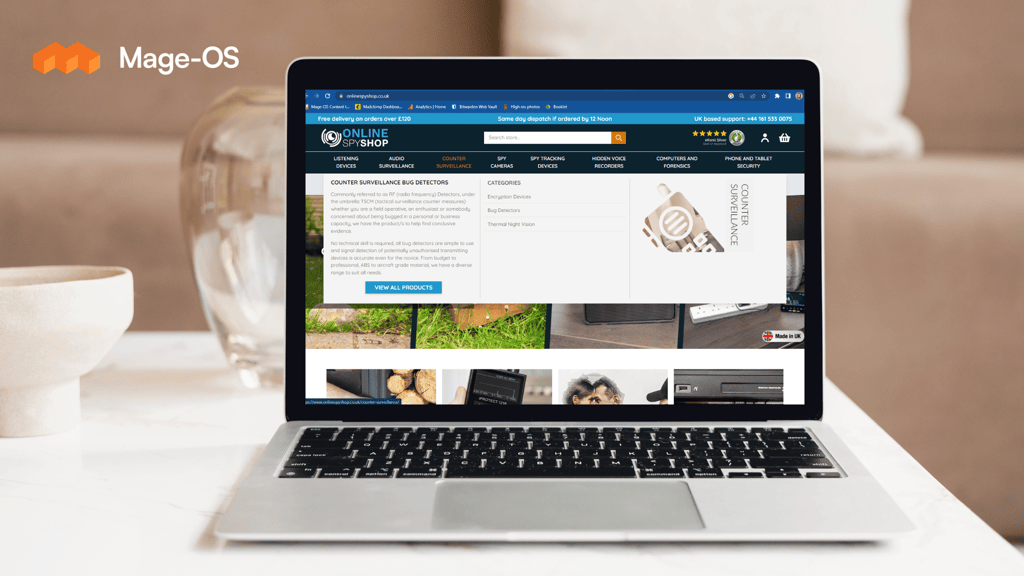 How it began
Already in 2018, Steve Roberts, proprietor of OSS Technology Ltd – Online Spy Shop, decided for Magento 2 to take his existing online store to the next level. Steve explains: "We were looking for four elements in a new platform: We wanted it future-proof, we wanted security, ease-of-use and a platform that allowed us to grow." Although Magento 2 was still in its infancy at that time, Steve and his team believed in the strength and solidity of it and its possibilities for exceptional growth. Steve: "It was a great choice we made, and we are still happy with this choice".
Top 5 functionalities to fall in love
Back in 2018 – and still valid today – Online Spy Shop's USP was very simple: transparency.
"For us, transparency means that we provide a good service and offer good products AND treat all clients the same regardless of status – which implies that we always uphold integrity", Steve explains the company values.
To back this, the online store has, from the beginning, certain functions considered mandatory:
Customer reviews: These show real examples of customer satisfaction to generate trust. (Do you want to implement such a powerful feature? Read more here.)
Site search: Helps the customer to find his product as quickly as possible without any distraction – if not wanted.
Content: Shows that the company has expert knowledge and is, therefore, trustworthy.
Live Chat: To offer superior customer service by answering in real time.
Address Validation verification service: Suggests validated addresses for fast and correct delivery.
They also set a focus on a streamlined and user-friendly yet comprehensive checkout. Including the acceptance of all payments that they needed and being compatible with PCA Predict, they met their expectations to provide their customers with the possibility of placing an order with minimum friction.
Make an effort to grow the love
Surveillance equipment is used by most people these days, whether that be a non-technical individuals using home CCTV to businesses, large corporations, private sectors, public sectors and law enforcement. In short, surveillance equipment can be used as a positive aid to gather important video / audio evidence in sometimes difficult and sensitive situations.
It is, therefore, not surprising that a provider of such equipment should also make sure that the user experience in the store is as positive as possible. Having this in mind, Online Spy Shop implemented plenty of improvements and optimizations over time to ensure a great customer experience.
The first thing customer will notice (and fall in love with) is the significantly improved top navigation bar. Not only did Online Spy Shop include a variety of trust elements such as the delivery time, positive reviews and an easily accessible phone support, but also a focus on "Made in UK"-products and UK-based support.
And to help find the customer's love interest more easily, Online Spy Shop highlights its bestseller products and offers a mega menu, including a ton of important information. Once you decided on a product, you'll find more specifications on the according product page. But if you want to win over the customer, you'll need to offer more – and that's what Online Spy Shop is doing: On the dedicated product page, not only find the exact delivery date and the possibility of social sharing (and who doesn't want to share one's new love with the world) together with express payment options.
The check-out page – provided by OneStepCheckout for Magento 2 – lifts the purchasing process and, therefore, the user experience to another level.
The love for performance
In 2021, Online Spy Shop wanted to boost the website's findability and increase the browsing experience even more. They did this by launching a new version of the website using Hyvä – a frontend theme for Magento. Steve explains the reason: "The whole point of using Hyvä Themes is the improvement of the Core Web Vitals, which leads to more visibility by ranking higher in Search Engine Result Pages (SERP). And actually, it allows a better, safer and faster browsing experience for any visitor landing on our website."
Online Spy Shop didn't stop just there but put extra effort in to become as trustworthy as they need to be for customers of such a business. Steve: "We did that by cramming as much information as we could in that rectangle above the fold. Why? Consumers' attention span is reducing to just a few seconds, and we wanted to make sure that they'll get all the important and useful information as quickly as possible."
To differentiate from the competition, they provided additional transparency by highlighting customer reviews, dispatch time and delivery fees, which is reiterated on the product pages too. By showing the width and breadth of their product assortment – not only showing the range in a mega menu but also highlighting and providing quick links to best-selling products – they also stand out from the competition.
Check-out with your love-interest
Once the customer has found the perfect piece, Online Spy Shop offers an easy-to-use checkout.
For those who don't want any strings attached, even without a registration or a required login. Email, address and phone number validation is self-evident, but the check-out also offers additional features such as address lookup and autofill.
"We implemented OneStepCheckout in the beginning and are still more than happy with that decision", says Steve. "What we can clearly see in the various iterations of the checkout design is that the business made sure customers are focused on completing checkout and not tempted to click away from this page." The iterations include the removal of navigation bars and various icons, but also the replacement of Sage Pay with Stripe so that the customers can stay on the same page to pay.
Although these efforts are certainly made to maximize the checkout conversion, it adds to the flawless user experience on the site. Store owners who want an equally good user experience can find more information here.
Bright future
In every relationship, you'll need to make an effort to keep the fire burning. Online Spy Shop has found its perfect match with Magento and was – and is – able to meet customer requirements through ongoing improvements and optimizations.
He also found a great agency – Foundation Commerce – to support him in his next growth phase using new innovative technologies like Hyvä. As Steve Robert puts it:
"Ryan's credentials and skillset are a rare find and bringing Foundation Commerce agency onboard was the best decision we've made."
Perfect match with technology and people leads to the customer's trust, which is the base of a longtime relationship and the "happily ever after".
For those who need a bit of support finding the way to the customers' heart, please, check out the various features Magento offers you.
Want your case study featured?